My Blog
Posts for: October, 2020
By Progressive Dental Group
October 17, 2020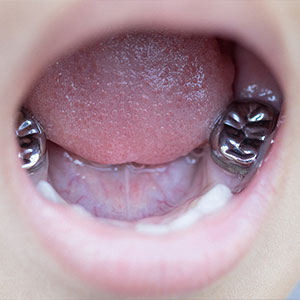 One of the key elements in a child's development is their first set of teeth. Although primary ("baby") teeth last only a few years, they're critically important for enabling a child to eat solid foods, speak and smile.
But they also provide one more important benefit—they hold the space in the jaw reserved for the permanent teeth developing just under the gums until they erupt. But if a child loses a primary tooth prematurely because of disease or injury, other teeth may drift into the vacant space and crowd it out for the intended permanent tooth. It may then come in misaligned or remain stuck within the gums (impaction).
To avoid this, we try to treat and preserve a diseased primary tooth if at all practical. For a primary molar, one of the large teeth in the back of the mouth, this might include capping it with a stainless steel crown.
Why a metal crown? Primary molars normally don't fall out until around ages 10-12, so it may be years for a younger child before their permanent molars erupt. All during that time these particular teeth will encounter heavier biting forces than teeth in the front.
A steel crown is often the best solution for a molar given their longer lifespans and encountered biting forces. The crown's metal construction can stand up to these forces while still protecting the tooth from re-infection from decay. And because molars are typically outside of the "smile zone" occupied by more visible front teeth, the crown's metal appearance isn't usually an aesthetic issue.
Crowning a molar usually takes one visit, a dentist typically performing the procedure with local anesthesia and possibly a mild sedative like nitrous oxide gas ("laughing gas"). After removing any decayed structure from the tooth, the dentist will then fit a pre-formed crown over the remaining structure, sized and shaped to match the original tooth as close as possible.
A stainless steel crown is a cost-effective way to added needed years to a primary molar that could otherwise be lost prematurely. Preserving it may help a child avoid bite problems and expensive future treatments.
If you would like more information on dental care for primary teeth, please contact us or schedule an appointment for a consultation. You can also learn more about this topic by reading the Dear Doctor magazine article "Stainless Steel Crowns for Kids: A Safe and Effective Way to Restore Primary Molars."
By Progressive Dental Group
October 07, 2020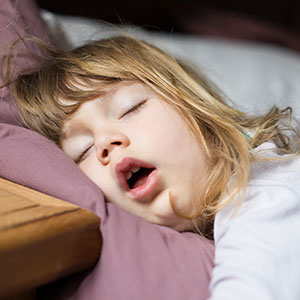 It's normal for people to breathe through their nose. And for good reason: Nasal breathing filters contaminants, warms and humidifies incoming air, and helps generate beneficial nitric oxide. Chronic mouth breathing, on the other hand, can trigger a number of harmful effects, especially for the teeth and gums.
Because our survival depends on continuous respiration, our bodies automatically seek out the air flow path of least resistance, normally through the nose. But if our nasal passages become obstructed, as with enlarged adenoids or sinus congestion, we may involuntarily breathe through the mouth.
This can lead to oral problems like chronic dry mouth, which not only creates an unpleasant mouth feel, it also produces the ideal environment for dental disease. And, it could cause an even more serious problem for children during jaw and teeth development.
This is because the tongue rests along the roof of the mouth (palate) while breathing through the nose. In this position, the tongue serves as a mold for the upper jaw and teeth while they're growing during childhood. During mouth breathing, however, the tongue moves away from the palate, depriving the jaw and teeth of this molding effect, and possibly resulting in a poor bite.
You can prevent these and other oral problems by seeing a healthcare professional as soon as you notice your child regularly breathing through their mouth. The best professional for this is an ENT, a medical specialist for conditions involving the ears, nose and throat. ENTs provide treatment for diagnosed obstructions involving the tonsils, adenoids and sinuses.
Even so, persistent mouth breathing may already have affected your child's bite. It may be prudent, then, to also have their bite evaluated by an orthodontist. There are interventional measures that can help get jaw development back on track and minimize future orthodontic treatment.
Finally, a child who has undergone treatment to remove nasal breathing obstructions usually reverts to nasal breathing automatically. But sometimes not: To "relearn" normal breathing, a child may need to undergo orofacial myofunctional therapy (OMT) with a certified therapist to retrain their facial muscles and tendons to breathe through the nose.
Your child's tendency to mouth breathing may not seem like a major problem. But prompt attention and treatment could prevent it from interrupting their dental development.
If you would like more information on correcting mouth breathing, please contact us or schedule an appointment for a consultation. You can also learn more about this topic by reading the Dear Doctor magazine article "The Trouble With Mouth Breathing."